Lenormand Mice Card Meaning & Combinations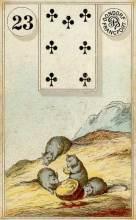 23 Mice
Depending on position, the card may take a noun (person, place or thing) or descriptive meaning (such as an adjective). Both examples are provided. The cards can also be very literal, so literal meanings, if applicable, are provided as well.
Quick hit: Reduction, loss, gnawing, soiling
Quality: Negative
Timing: Twenty-third day of the month; lost, wasted
Detail: The Mice card reminds us of the Lenormand's history and points to dreaded and pervasive pests — mice. The Mice card stands for gnawing, damaging and soiling. This card represents something being taken away or diminished. It can also mean running around or bite-sized.
Compare: Compare the diminishing of Mice to the unfaltering of the Snake.
Sample Mice Combinations:
That big burglary was covered in the news
His new lover created a lot of stress
While the pipes cracked, the damage was minimal
For some reason he was only a little worried about his stolen car
She really wondered if she could trust her employees in her overseas business
The ship's hull is completely rotten and is a bad buy
He has domestic problems again that he can't seem to shake
While the siblings seemed to get along, she constantly stole things from him
Being very stressed out about one's health
Losses that just seem to get worse over time
The erosion of her mental health left her in a state of confusion
Her sabotaging the situation left him completely perplexed
She's out to steal your boyfriend and will do anything to get him
Your worries are well-founded
An end to their poverty
Finally the stress has stopped
He is a gifted thief
She has a talent for spoiling things
The thieves were caught about two seconds after the crime
The harm he caused cut her to the bone
He cannot stop worrying about the losses
The damage seemed insurmountable
They are a toxic couple who bring everybody down
That gossip erodes everyone's peace of mind
That child is so destructive
The way he sabotages things is so immature
The way they defrauded people was very clever
The pests in their house were very clever and it was impossible to eradicate them
Not only does she stress you out, she walks all over you
He causes all that damage because he's jealous
The guidance she gave you was misguided
He damaged her with quite the precision
Her worries came and went
Having to relocate for work felt like such a loss
Bad things seemed to follow him around wherever he went
She was in a constant state of fear
He kept diminishing her in the hopes that it would get him what he wanted at work
The corporate culture there is very destructive
A support group for people damaged by relationships
A garden left to decay
Take more antioxidants to prevent breakdown of your cells
By installing a security alarm, you'll prevent theft
He always told her that being stressed out was a choice
She didn't feel sorry for him that someone stole his phone because he always left it out in the open
She felt emotionally damaged after that relationship
Cardiac stress
A dubious contract that puts the signer in a bad position
The parents knew that their children's marriage was a bad idea
She was constantly worried but never let anyone know
Sometimes knowing more information about a situation creates more problems
He sent her a hurtful text that broke her heart
She had gotten a beautiful card in the mail but unfortunately the rain practically destroyed it before it arrived in her mailbox
A professional thief who is a man
A guy who causes a lot of damage
A male depreciation inspector
A professional thief is a woman
A female who causes a lot of damage
A female depreciation inspector
Even though she wasn't very resourceful, she felt peaceful about it
Even though his actions harmed her, his intention was positive
They finally caught those thieves
They were finally able to expose the damage to their plumbing in the basement so now it can be fixed
Sometimes we can't see losses, they are psychological
The damage to her reputation was irrepairable
Stresses the key to your health issues
Stop running around and focus, it'll be key to figuring this out
She conned him out of all of his money
There was a tremendous amount of stress
After losing her home to fire, she never recovered from the loss, even several years later
No matter how hard he tried, he could not raise himself financially and was always hovering around the poverty line
Her worries were so overwhelming it began to erode her life
The situation destroyed his faith
© Petra Gilbert & Phuture Me Ltd 2016-2022.

This work is licensed under a Creative Commons Attribution-NonCommercial 4.0 International License.