Lenormand Mice Card Meaning & Combinations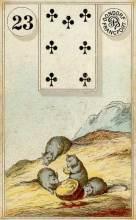 23 Mice
Depending on position, the card may take a noun (person, place or thing) or descriptive meaning (such as an adjective). Both examples are provided. The cards can also be very literal, so literal meanings, if applicable, are provided as well.
Quick hit: Reduction, loss, gnawing, soiling
Quality: Negative
Timing: Twenty-third day of the month; lost, wasted
Detail: The Mice card reminds us of the Lenormand's history and points to dreaded and pervasive pests — mice. The Mice card stands for gnawing, damaging and soiling. This card represents something being taken away or diminished. It can also mean running around or bite-sized.
Compare: Compare the diminishing of Mice to the unfaltering of the Snake.
Sample Mice Combinations:
23 Mice + 26 Book = Revealed secrets, excerpts from a book or document
23 Mice + 6 Clouds = Clarity
23 Mice + 28 Man = Worried man
© Petra Gilbert & Phuture Me Ltd 2016-2019.

This work is licensed under a Creative Commons Attribution-NonCommercial 4.0 International License.