Lenormand Fish Card Meaning & Combinations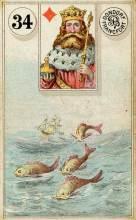 34 Fish
Depending on position, the card may take a noun (person, place or thing) or descriptive meaning (such as an adjective). The cards can also be very literal, so literal meanings, if applicable, are provided as well.
Quick hit: Money, assets, abundant, wealthy 
Quality: Neutral
Timing: N/A
Detail: The Fish card represents a lot of something, particularly money or assets. It can mean wealthy, luxurious or fiscal. It may point to fluid or being adept (a fish in the water). 
Compare: Compare the assets of the Fish to the investments of the Bear.
Sample Fish Combinations:
34 Fish + 26 Book = Book collection
34 Fish + 7 Snake = A lot of troubles
34 Fish + 3 Ship = Globe trotter
© Petra Gilbert & Phuture Me Ltd 2016-2019.

This work is licensed under a Creative Commons Attribution-NonCommercial 4.0 International License.