Lenormand Ship Card Meaning & Combinations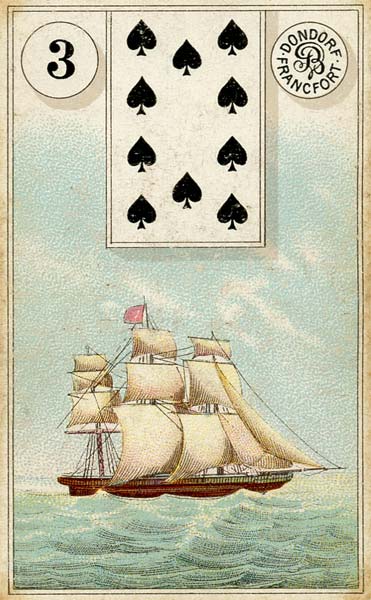 3 Ship
Depending on position, the card may take a noun (person, place or thing) or descriptive meaning (such as an adjective). Both examples are provided. The cards can also be very literal, so literal meanings, if applicable, are provided as well.
Quick hit: Commerce, foreign, traveling, longing or literally, a ship
Quality: Neutral
Timing: Three days, weeks, months, the third day of the month, March
Detail: In the days when this Lenormand system was created, ships were used for travel and commerce. So the card can mean a trip or journey overseas. It can represent a foreign, roaming or worldly person. It reflects commerce, even via the Internet. Since ships were used to take goods to and from other countries, it can represent importing and exporting as well. It can also represent a vehicle, such as a ship, car, plane, etc.
Compare: Compare this card to Rider, which brings news about something.
Sample combinations: 
3 Ship + 1 Rider = News from abroad
3 Ship + 21 Mountain = A delayed trip
3 Ship + 29 Gentleman = A foreign gentleman
© Petra Gilbert & Phuture Me Ltd 2016.

This work is licensed under a Creative Commons Attribution-NonCommercial 4.0 International License.