Lenormand Sun Card Meaning & Combinations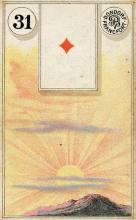 31 Sun
Depending on position, the card may take a noun (person, place or thing) or descriptive meaning (such as an adjective). Both examples are provided. The cards can also be very literal, so literal meanings, if applicable, are provided as well.
Quick hit: Success, happiness, victorious, exposed or literally, sun
Quality: Positive
Timing: Thirty-first day of the month; solar year, sunrise 
Detail: The Sun represents greater fortune or success. It can mean optimism, joy and happiness. The Sun also shows positivity, confidence and achievement. The Sun also brings things to light or exposes them. More literally, it can mean energy, electricity or the sun.
Compare: Compare the greater success of the Sun to the Clover's smaller amount of luck.
Sample Sun Combinations:
31 Sun + 15 Bear = Successful investments
31 Sun + 3 Ship = Tropical vacation
31 Sun + 32 Moon = Excellent reputation
© Petra Gilbert & Phuture Me Ltd 2016-2019.

This work is licensed under a Creative Commons Attribution-NonCommercial 4.0 International License.